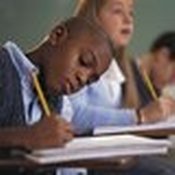 "Teaching is not a lost art, but the regard for it is a lost tradition."
It is the mission of the Exceptional Student Education Department to ensure that schools provide opportunities and programs that encourage students to develop academic and social skills commensurate with their abilities in the least restrictive environment. The commitment of the ESE Department is to assist all school personnel, families, and community stakeholders in the appropriate and timely identification, placement, and programming for exceptional students. It is recognized that parent training, community awareness, and services to families are essential to student success. This website is designed to give you an overview of the ESE Department of Taylor County Schools and provide links to agencies, services, and information that may be of value in providing for the needs of students in Taylor County.
Congress passed the Every Student Succeeds Act (ESSA) and then it was signed into law on December 10, 2015, amending the No Child Left Behind Act of 2001 and the Elementary and Secondary Education Act. ESSA increases state authority on standards, assessments and interventions, and adds specific restrictions to the United States Secretary of Education involvement in state decisions. To stay abreast of the changes in education that are related to ESSA, please check the following link: http://www.fldoe.org/academics/essa.stml
ABOVE ALL, WE TAKE PRIDE IN THE EDUCATION OF OUR CHILDREN.
Contact Information for the District Exceptional Student Education Office, located in the Wentworth Administrative Complex.
318 North Clark Street, Perry, FL 32347 Phone: 850-838-2536 Fax: 850-838-2537
Office Hours: 8:00 AM - 4:00 PM